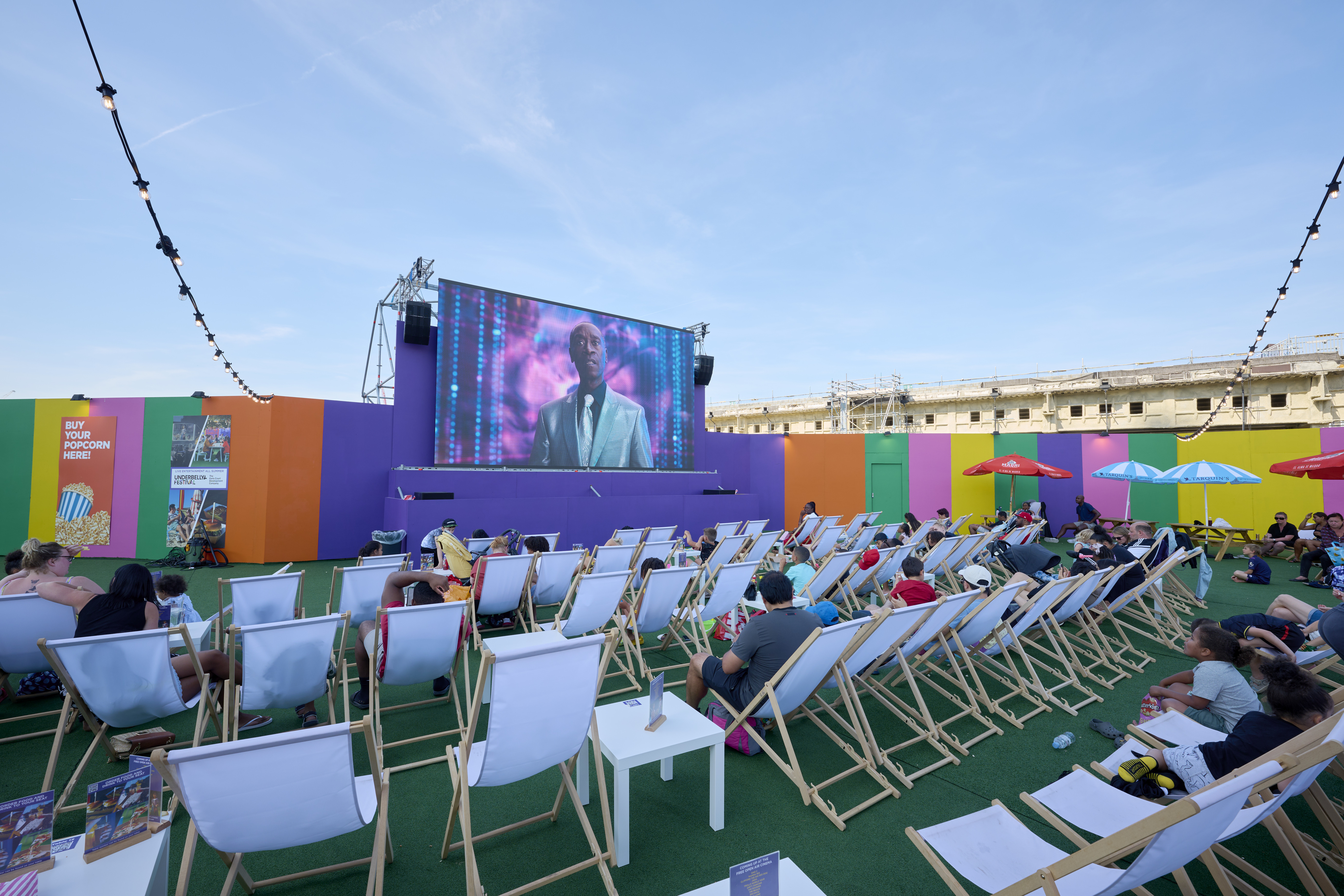 Free Events
Free Outdoor Cinema
DATE
23rd July - 3 September
Spend your summer with us!
Grab a chair, popcorn and a drink from the bar as you join us for an unforgettable movie experience.
We are bringing you a free open-air cinema to keep you entertained all summer. There is something for everyone with two films everyday plus an extra one on weekends.
There is no need to book tickets to the cinema, the site is free and all you need to do is walk in!
Please be aware that no food or alcoholic drinks are permitted to be brought on-site.
*These films are 12+. Any children under this age will need to leave the Festival site prior to the start of the film.
What's on this summer:
Wednesday 10th
4pm - Matilda
7pm - Pulp Fiction*

Thursday 11th
4pm - Pete's Dragon
7pm - Jungle Cruise*

Friday 12th
4pm - The Greatest Showman
7pm - Uncle Buck*
Saturday 13th
12.30pm - Inside Out
4pm - Grease
7pm - The Hangover*
Sunday 14th
12.30pm - The Lego Movie
4pm - Peter Rabbit 2
7pm - National Lampoons Vacation*
Monday 15th
4pm - Hook
7pm - The Big Lebowski *
Tuesday 16th
4pm - Tom & Jerry the Movie
7pm - Kill Bill*
Wednesday 17th
4pm - Layrinth
7pm - Suicide Squad*

Thursday 18th
4pm - Karate Kid
7pm - Reservoir Dogs*

Friday 19th
4pm - Spirit Untamed
7pm - Ferris Beullers Day Off*
Saturday 20th
12.30pm - Rio
4pm - Mamma Mia
7pm - Back to the Future*
Sunday 21st
12.30pm - Annie
4pm - The Princess Diaries
7pm - Lost in Translation*
Monday 22nd
4pm - Dora and the Lost Cities of Gold
7pm - The Fugitive*
Tuesday 23rd
4pm - The Jungle Book
7pm - Mission Impossible*
Wednesday 24th
4pm - Moana
7pm - Jaws 2*

Thursday 25th
4pm - Scoob!
7pm - Shaun of the Dead*

Friday 26th
4pm - Spycies
7pm - Zoolander*
Saturday 27th
12.30pm - The Sound of Music
4pm - Mamma Mia Here We go Again
7pm - Black Widow*
Sunday 28th
12.30pm - Wonder Park
4pm - Chitty Chitty Bang Bang
7pm - Men in Black*
Monday 29th
4pm - Breakfast at Tiffanys
7pm - Palm Springs*
Tuesday 30th
4pm - Superintelligence
7pm - Fear and Loathing in Las Vegas*
Wednesday 31st
4pm - Come Away
7pm - Crazy Stupid Love*

Thursday 1st September
4pm - The Wizard of Oz
7pm - Nomadland*

Friday 2nd
4pm - Amazing Grace
7pm - Ghostbusters Afterlife*
Saturday 3rd
12.30pm - How to Train Your Dragon: The Hidden World
4pm - Dolittle
7pm - The Batman*
N.B. Films may change without notice. Keep an eye on this page for the most up to date information

VENUE ADDRESS
Empress Place, Earls Court, London SW6 1TT
You might also like
Free Events
City Beach
Sit back, relax and enjoy the summer in London at our city beach. The beach is free to visit and with a wide selection of refreshing drinks at our bar plus delicious street food, we have e...
Underbelly Festival Earls Court 25th July - 3rd September
Free Events
Boules
There is now even more on offer at Earls Court to keep everyone entertained this summer. Our new boules green is officially open and there is no need to book, just get down to site and start pla...
Underbelly Festival Earls Court 25th July - 3rd September