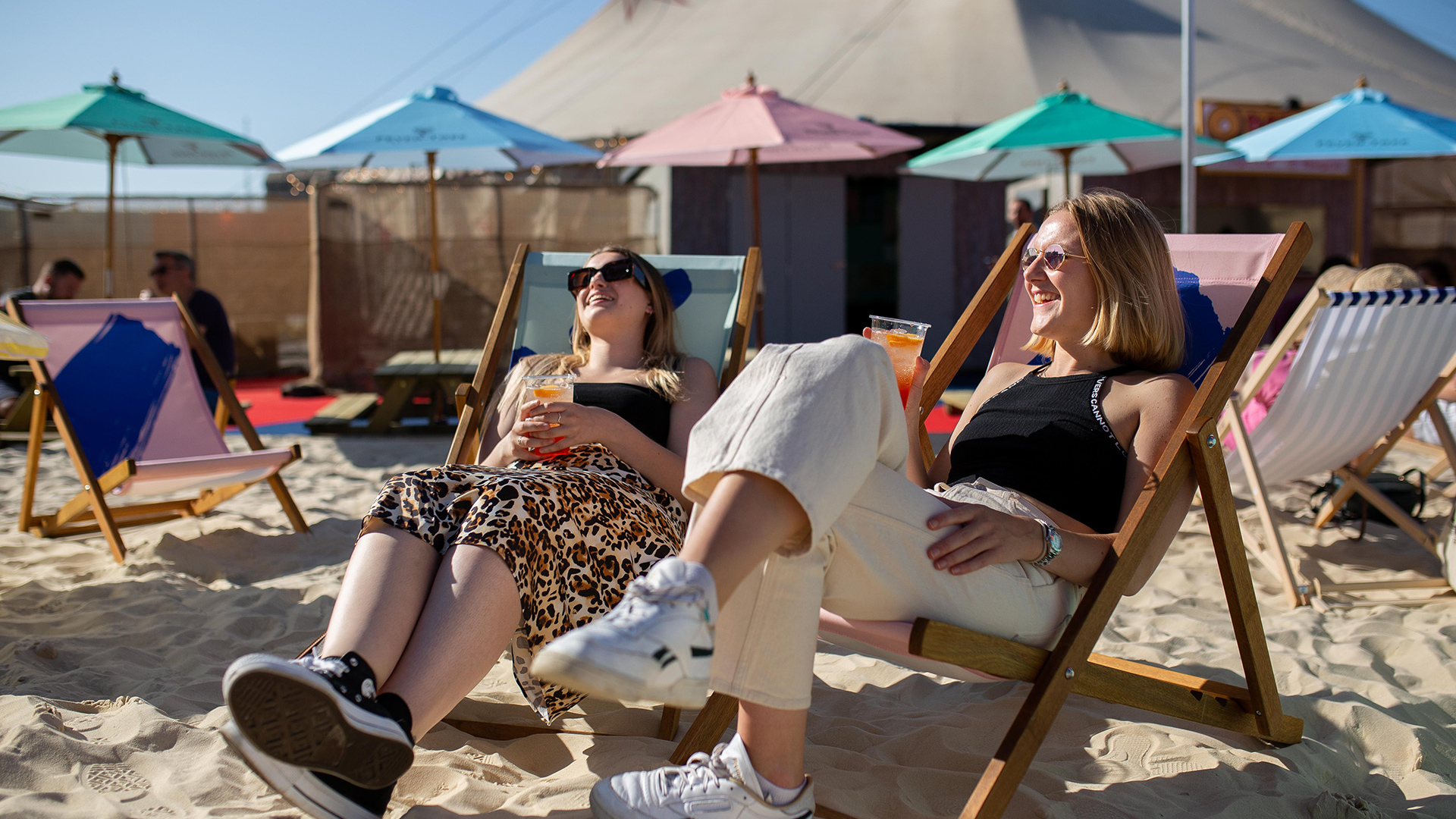 Your Visit
Earls CourtFAQs
Got a question? We're here to answer! If you don't see your questions here, drop us a line on our contact page.
Can I bring my own food and drink?
No food or alcoholic drinks are permitted to be brought on-site. Only food and alcohol purchased on site may be consumed on the premises.
Are there age restrictions for accessing the festival sites ?
Whilst the site is suitable for children of all ages, we would recommend that children are accompanied at all times by a responsible adult of 18 years or over.
Some films shown from 7pm are 12+. Any children under this age will need to leave the Festival site prior to the start of the film. Click here for the full list of screenings.
Do I have to pay to get into Underbelly venues ?
It's free to enter Underbelly Festival, so you can sit and enjoy a drink in the sunshine and some delicious street food at your leisure! You do not need to book a table or time slot to enter. We have ticketed shows on offer in our venues. Visit our on-site Box Office or buy tickets online!
Do I need to book tickets for the Cinema?
No, there are no bookings needed for the cinema.
What time are the films?
Cinema screenings will be at 4pm and 7pm every day, with an additional film at 12.30pm on the weekends. Click here to see the up-to-date schedule.
What are Underbelly Festival Earls Court's opening times?
Open everyday
12pm - late
How do I get to Earls Court?
UNDERGROUND
The nearest underground station to the site is West Brompton, which is less than a 5- minute walk. West Brompton underground station is on the District Line. You can also get to the site by traveling to Earls Court underground station, which is a 10- minute walk away. Earls Court is on the Piccadilly Line.
TRAIN
The nearest National Rail station is West Brompton. There are Southern Railway services northbound via Watford Junction and southbound via Clapham Junction.
BUS
There are 10 bus stations within a 10- minute walk from the site.
CYCLE
The nearest Santander Cycle Hire docking stations are located at Halford Road, West Kensington and Trebovir Road Earls Court. Both are a short walk to the site.
TAXI
There is a 24-hour taxi rank at Earls Court Station.
PARKING
Car parking is not provided, and people will be encouraged to travel by public transport using the existing transport links.
Find us here - : https://w3w.co/terms.places.scans
Are dogs allowed at Underbelly Festival?
Dogs are allowed in the outdoor bar and seating areas of Underbelly Festival. They must be kept on a lead at all times and are not permitted inside the venue. With the exception of assistance dogs.
How can I locate my lost property?
Is there a cloakroom?
We do not currently provide a cloakroom service.
What toilet facilities are at Underbelly Festival?
Female, male and gender-neutral toilet facilities are located within both Underbelly Festival sites. There is an accessible toilet located within these toilet compounds.
How accessible is the site for people with mobility issues?
Underbelly understands disability within the Social Model. This means we are committed to making our festivals accessible to everyone and to creating equal experiences for all people.
For our full accessibility information, please click here.
What bag can I bring with me?
You can bring a bag with you, all bags are searched on site for security reasons.
What security measures are in place?
To ensure your safety, we have SIA accredited security onsite at all times, at the entrances and patrolling throughout the site.
We have a comprehensive CCTV system in place, and bag searches in operation on entry to the site.
Please keep your personal belongings with you at all times. Security will be called to deal with unattended items and they may be removed.
What is your sustainability policy?
Visitors are strongly encouraged to travel on foot, by bike or by public transport.
Underbelly will provide suitable facilities for visitors, traders and operators to recycle their waste and all site waste will be sorted off site to divide out recyclable and non-recyclable materials.
Power, lighting and water usage is minimised wherever possible.
Traders and operators will be encouraged to procure products from sustainable sources where possible and the vast majority of the Underbelly infrastructure is permanent or is re-used year after year.
Underbelly uses local staff and crew where possible and encourages traders and operators to do the same.
Underbelly is committed to sustainability at all our events. If you have any comments, questions or feedback about how we can improve sustainability at our events or would like to view a copy of Underbelly's Sustainability Policy, please email sustainability@underbelly.co.uk.